13 Things that will maximize the value of your home
Crested Butte is a small town in Colorado that has quickly become a desirable place to live. The real estate market in Crested Butte is booming, with prices for both homes and land increasing. For local homeowners looking to sell their mountain homes, now is a good time to do so.
Remember that listing your Crested Butte homes for sale on your own can be tricky. But don't worry. With the proper preparation and guidance, it can be a smooth and successful process.
Our home selling guide will provide you with all the information you need to get your home ready for sale and find the right buyer.
Here are 13 things you can do to maximize your home's value and sell it quickly.
Hire a Realtor or Real Estate Agent who knows the local market

Hiring an experienced Realtor or real estate agent is one of the most important steps you can take when selling your home.

A good Realtor or agent who knows the local market will be able to price your home correctly and market it effectively to potential buyers. They'll also be able to negotiate on your behalf and help you get the best possible price for your home.

Skills, experience, and certifications vary among real estate professionals. So, you need to be careful about who you choose to work with because it's not uncommon to come across an agent with less experience or a reputation for being unprofessional.

Before listing your mountain property for sale, make sure to research potential agents before making a final decision.

Start by asking friends, family, and acquaintances for recommendations. Once you have a few names, look them up online and read customer reviews. It's also essential to meet with potential agents in person to get a feel for their personalities and see if they're a good fit for you.

Finally, don't be afraid to ask tough questions. You want to know that your agent will have your best interests at heart and work hard to get you the best possible deal on your new home.

At Ebner and Associates, we have a team of experienced Crested Butte Realtors and real estate agents who can help you get the best price for your home. We'll work with you to find the right buyer or seller and negotiate on your behalf to get the best possible price.

Contact us to learn more about our services.

Price your Crested Butte home for sale

Potential buyers won't want to pay more than what the comparables or "comps" in the local market present, so it's crucial to get the pricing right.

When pricing your home, it's important to find the right balance. You don't want to price your home too high and risk having it sit on the market for months, but you also don't want to price it too low and leave money on the table.

The best way to determine the right price for your home is to consult with a Realtor who knows the market well. They will be able to help you come up with a competitive price that will attract buyers.

It's also important to be realistic about your expectations. If you're hoping to get top dollar for your home, you may need to be prepared to wait longer for the right buyer to come along.

Additionally, you should avoid pricing a home too high and then lowering it periodically. Homes with multiple pricing reductions may give potential buyers the impression that there's something wrong with your Crested Butte home's condition or it's undesirable.

Set a timeline for selling your home

Putting your Crested Butte homes for sale is a major undertaking that can take two months or more, depending on local market conditions and the level of inventory available in the area.

As soon as you decide to sell, it's important to set a timeline that works for you. Give yourself enough time to prepare your home for sale. This includes decluttering, deep cleaning, making necessary repairs, and staging your home.

Here's a list of things to do before listing your home:

Research Crested Butte realtors and real estate agents
Declutter your home or move excess items to a storage unit
Schedule a home inspection to identify any issues if needed
Schedule home repairs if needed
Deep clean
Stage the house
Have professional photos taken

Get a pre-sale home inspection

A pre-sale home inspection is an evaluation of the condition of a home before it hits the market. It can give you an idea of what repairs or updates may need to be made so you can budget accordingly.

While not required, a pre-sale home inspection can alert you of any issues a potential buyer will likely flag when they do their own inspection later in the sales process.

Be sure to ask your Crested Butte Realtor or agent for recommendations on reputable inspectors in your area.

Don't waste money on needless upgrades

There's no need to waste money on upgrades that won't pay off. This is where a good Realtor or real estate agent can come in handy. They know what buyers expect in your area and can help you plan renovations or upgrades accordingly. Here are a few things you can skip:

Don't bother painting if the walls are in good condition. A fresh coat of paint may make your home more appealing to buyers, but it's not worth the expense if the walls are already in good condition.
Skip out on new flooring unless it's badly damaged or outdated. Buyers are typically willing to overlook worn carpet or old linoleum if the price is right.
Upgrading your kitchen or bathroom may be unnecessary. Unless these rooms are severely outdated, potential buyers will be more interested in these areas' overall layout and size than they will be in new countertops or fixtures.

Get professional photos taken

One of the most important things you can do to help sell your Crested Butte homes faster is to have a professional photographer take high-quality pictures of your home. This is because potential buyers will often make their decisions based on the photos they see online.

While you could save money and take pictures using your smartphone or DSLR camera, the DIY images produced won't pass for a great real estate photo that would entice buyers.

A professional photographer specializing in real estate photography knows how to show off your home and make it look its best.

They know which angles to shoot from to highlight a room's best features, understand which camera settings to use to bring out an image's best qualities, and use professional-grade equipment that enhances the quality of the photos.

When you hire a photographer, make sure they take both daytime and nighttime photos, as well as close-ups of any features that you want to highlight.

Finally, ask to see the final photos before they're posted online so that you can approve them.

Stage your home and keep it clean for showings

Before listing your mountain property for sale, it is important to stage your home to appeal to potential buyers.

Staging a home means removing unnecessary or excess furniture, personal belongings, and clutter from your Crested Butte homes, as well as arranging rooms for optimum flow and purpose.

Here are a few simple things you can do to make your home more appealing and increase its chances of selling quickly.

Declutter and depersonalize your space. This means removing personal items such as family photos and heirlooms, as well as any clutter that might make the space feel smaller or less inviting.
Focus on curb appeal. This is the first thing potential buyers will see when they drive up to your home, so make sure the landscaping is trimmed and tidy and the exterior of the house is in good condition.
Make sure the inside of your house is clean and bright. Draw the curtains open and turn on all the lights to make the space feel warm and inviting.

Additionally, investing in a professional stager could help you stand out in slower markets or if you're selling a luxury home. However, be prepared to shell out anywhere from around $750 to $2,800 for professional staging services.

Focus on the online appeal of your Crested Butte Home

You've probably heard of curb appeal, a term used to describe the level of attractiveness a person may feel for a property when viewing it from the sidewalk or street.

But Crested Butte Realtors and real estate agents now advise focusing on online appeal.

First impressions are important, especially when most potential buyers often start their search for a new Crested Butte home online.Your home's first web presentations will determine whether somebody calls to make an appointment or clicks on another listing.

There are a few things you can do to make sure your home's online listing catches potential buyers' attention.

First, make sure the photos are high quality and show off the best features of your home.
Next, write a compelling description that highlights all the reasons why someone would want to live in your home.
Finally, be sure to price your home competitively.

Buyers should also be able to easily find information about your home, including square footage, number of bedrooms and bathrooms, any other special features, and your contact information.

Let someone else show your home

When listing your Crested Butte homes for sale, you should ideally let someone else show the house.

It can be difficult to be objective about your own home, and potential buyers will want to see it through fresh eyes. A professional Crested Butte Realtor or real estate agent can help you stage your home for sale and show it in its best light.

By working with an experienced agent, you can get top dollar for your Crested Butte homes.

Review and negotiate offers

After your home officially hits the market, the offers should ideally start rolling in. This is when a Crested Butte Realtor or real estate agent is most invaluable to you. They'll be your best advocate and go-to source for advice.

Buyers are likely to make an offer at or above the asking price if the local market is competitive and favorable to sellers. You might even receive several offers.

On the other hand, you might need to be open to negotiating if sales are sluggish in your area and you don't receive many offers.

You have three options after receiving an offer:

Accept it as-is
Make a counteroffer
Decline it

When you make a counteroffer, you haggle about the terms and price. The buyer should only have 48 hours or less to respond to counteroffers, which must always be presented in writing.

For instance, you could insist on maintaining your original asking price while extending credit for paint and carpet. Or, to sweeten the deal, you could offer to leave certain appliances behind.

You might be tempted to accept the highest offer if you're lucky enough to receive several. But look closely at other aspects of the deal as well, such as:

Contingencies
Down payment amount
Form of payment (cash versus financing)
Proposed closing date
Requests for credits or personal property
Type of financing

Be mindful that a property appraisal is required if a buyer plans to use loan financing. The sale could fall through if there is a discrepancy between the purchase price and appraised value.

Anticipate seller closing costs

Remember, closing costs are incurred by both you (the seller) and the buyer.

The real estate agent's commission, which is normally between 5% and 6% of the home's sale price, is often paid by the seller of the property. Other costs commonly paid by the seller include:

Attorney fees
Government transfer tax
Outstanding liens
Recording fees

Additionally, you will also pay any credits for repairs or closing costs that the buyer has agreed to pay at closing. YourCrested Butte Realtoror real estate agent should provide you with a complete list of costs you'll be responsible for at the closing table.

Be aware that you might have to pay some fees in addition to the buyer, who normally pays the majority of closing costs, which can range from 2% to 4% of the sales price.

Weigh the tax implications

The good news is that many homeowners who sell their primary residence won't face taxes on the proceeds.

You won't be required to pay taxes on any profit up to $250,000 if you owned and resided in your Crested Butte home for at least two of the five years prior to selling it.The amount you can deduct from taxes rises to $500,000 for married couples.

If your profit from the sale of your house is higher than that, you must declare it as a capital gain on your tax return and report it to the IRS.

Consider hiring a real estate lawyer

Not all states require sellers to bring a real estate lawyer to the closing. You will need a couple thousand dollars to hire one, but the expense might be worth it to safeguard such a large financial transaction, especially if you're selling your house by yourself.

A lawyer can help with completing paperwork, reviewing contracts and other legal documents, spotting potential problems, and making sure the sale proceeds as smoothly as possible.

An attorney will also be able to identify title problems that can prevent your sale from closing or cause it to be delayed for weeks or months, such as:

Encroachments
Mortgage balances
Outstanding liens, judgments, or other encumbrances
Tax issues
Trust issues
Sell Crested Butte homes the easy way!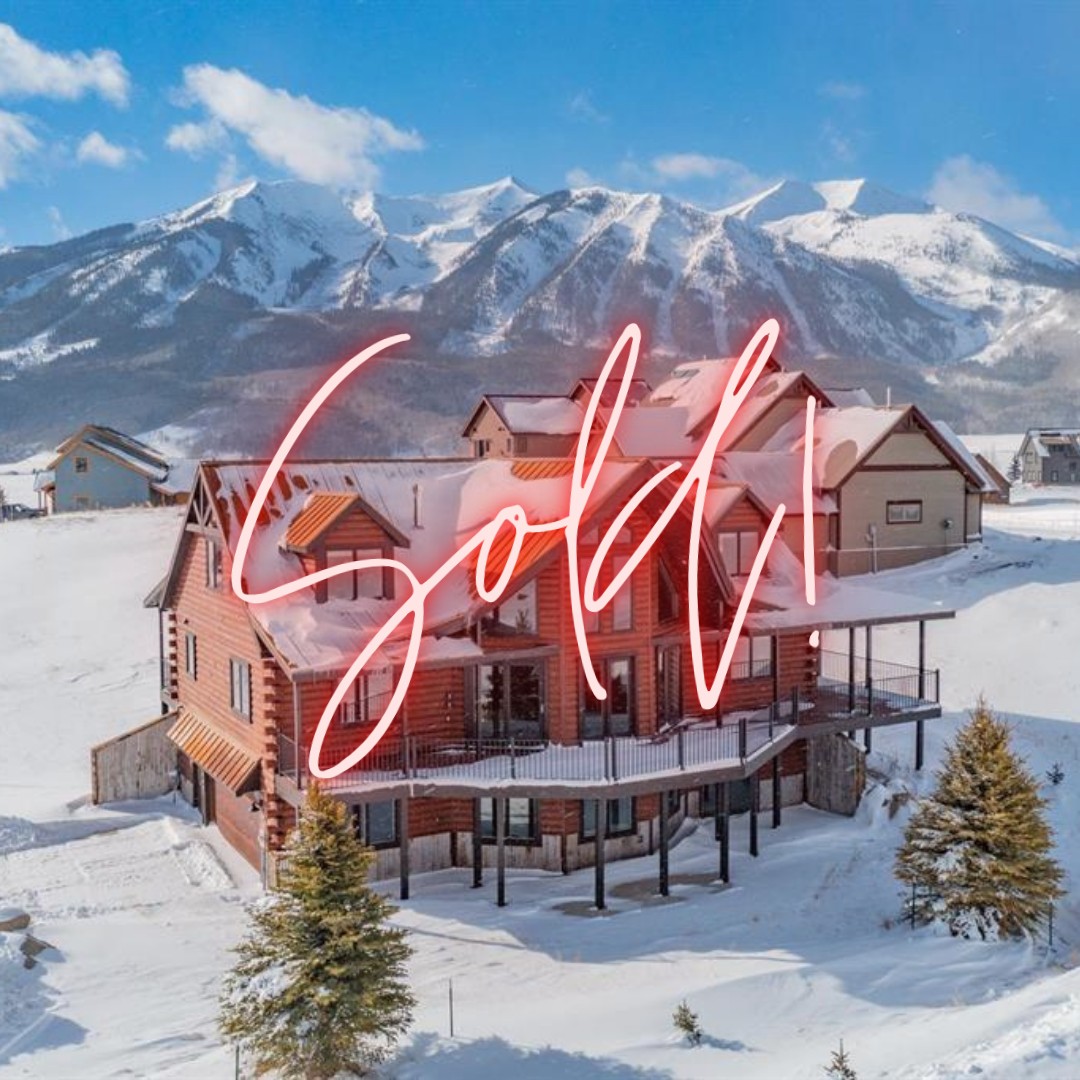 When you're ready to list your Crested Butte homes for sale, it's important to have a plan. Our Crested Butte home selling guide provides an overview of the process, from preparing your home for sale to negotiating with buyers.
If you want to maximize your chances of getting the best possible price for your home, consider working with the right real estate professionals that'll make all the difference when selling your home.
At Jesse Ebner & Associates, we have a team of experienced Crested Butte Realtors and real estate professionals who are dedicated to helping our clients sell their homes. Contact us today to learn more about how we can help you sell your home.
Call 970.901.2922 or contact us here