As I promised last week, this email is all about 2022 and what happened with real estate sales and a comparison to the previous 5 years. Overall, the sales ended below 2020 and 2021 but well above 2017-2019. The total sales volume is down but the average sales price is up significantly. 358 properties sold in 2022, of those, 263 were residential (condos, homes, townhomes), 92 were vacant land, and 3 commercial sales.
We all know that interest rates were the topic of the year but that didn't stop people from getting a loan. Of the 358 sales, 163 were purchased with a loan with 150 residential properties and 13 vacant lots. Properties spent more time on the market, in general, but the average list to sales price was 97%.
So what can we expect for 2023? So far, we have very low inventory and I don't see that changing a lot, at least in the first quarter which means we won't see a decline in the average sales price. For sellers, it will be imperative that you price your property correctly if you want to sell quickly. Homes that are priced correctly will sell faster and likely for more money than a home that is overpriced. Buyers, you will continue to have a little leverage with sellers because demand is slightly lower. It will be a great time to sell because inventory is low and a great time to buy because there will be less competition. Buyers, make sure you focus on the monthly payment, not the interest rate! While rates are higher, your actual payment may not be unreasonable.
Check out all of the detailed stats for 2022 below and CALL me with any questions!
P.S. We have gotten 35″ in the last 7 days! The mountain is skiing great and the T-Bars opened yesterday! Whoop whoop!
2022
Closings
Almont to Mt. Crested Butte
Number Sold: 358 Down 48%
Total Dollar Volume: $398,688,594 Down 39%
Median Sales Price: $777,000 Up 32%
Average Sales Price: $1,113,655 Up 17%
Lowest Sale: $20,000 (10 Acre Mining Claim in Tincup)
Highest Sale: $11,550,000 (6 Vacant Lots in Downtown Crested Butte .84 Acres Total)
2021
Closings
Almont to Mt. Crested Butte
Number Sold: 689 
Total Dollar Volume: $656,054,893
Median Sales Price: $587,000
Average Sales Price: $952,184
Lowest Sale: $6,500 (.12 Acre Site in Scholfield)
Highest Sale: $10,000,000 (Harmels Ranch Resort)
2022
Closings
Gunnison 
Number Sold: 212 Down 39%
Total Dollar Volume: $127,750,399 Down 14%
Median Sales Price: $453,250 Up 13.5%
Average Sales Price: $602,596 Up 38%
Lowest Sale: $20,000 (Mobile Home with No Land)
Highest Sale: $9,400,000 (1,243 Acre Hunting Lodge in Rural Gunnison)
2021
Closings
Gunnison 
Number Sold: 345
Total Dollar Volume: $150,266,914
Median Sales Price: $399,000
Average Sales Price: $435,556
Lowest Sale: $12,000 (2 Acres Near Blue Mesa)
Highest Sale: $3,100,000 (Single Family Home in Eagle Ridge Ranch)
*Sales Data from CREN MLS and includes all types of properties, land, commercial and residential. Not all sales were not necessarily listed/sold by Signature Properties Ebner & Associates and are only intended to show local market trends in the area.*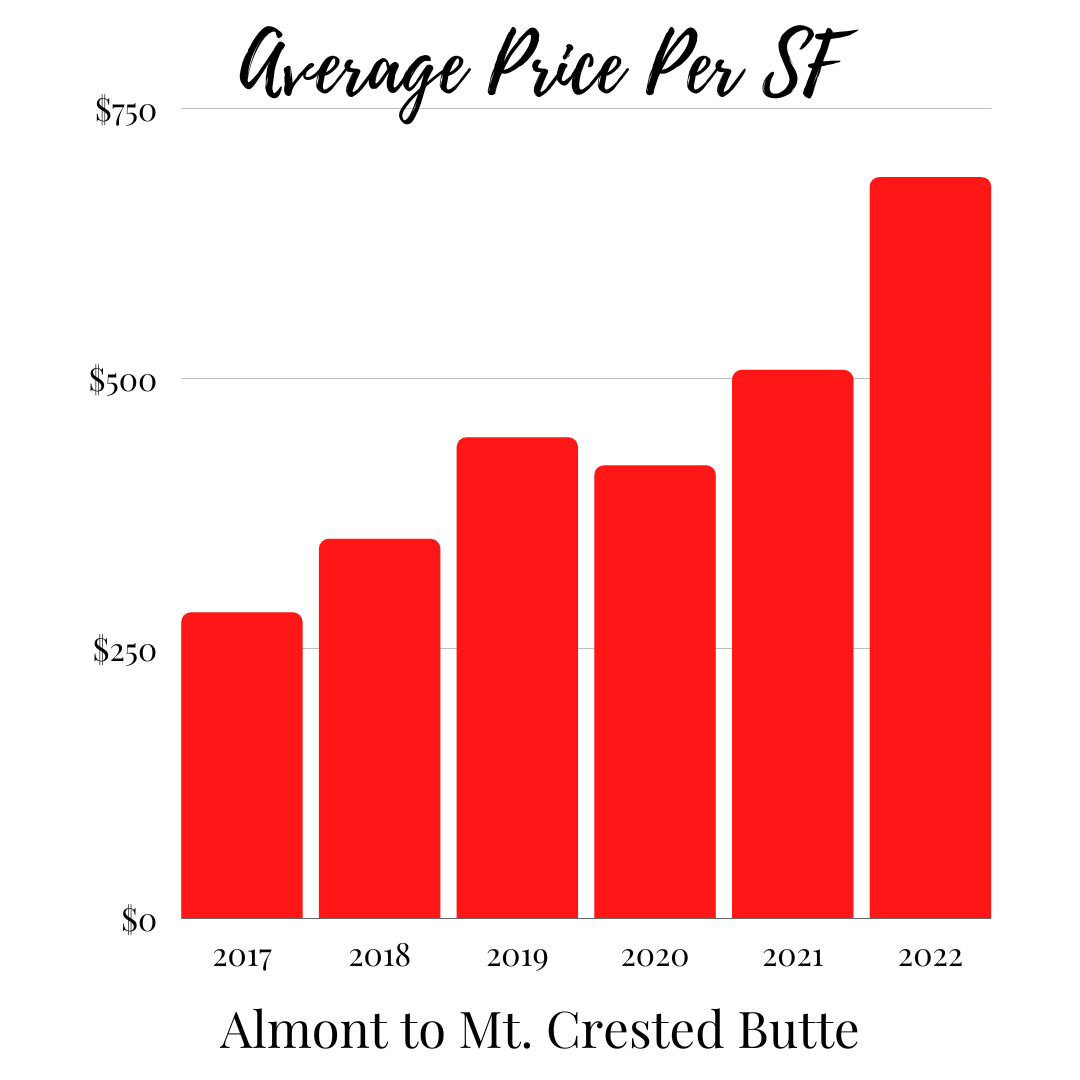 Major Price Improvement! 36 Quartz Circle – $950,000
– This is such a special and unique property as one of the only homesites available bordering over 12,000 acres of National Forest yet only a short drive to skiing and downtown Crested Butte. Situated at the top of Meridian Lake Meadows, offering incredible views of Mt. Crested Butte, Whetstone, Axtel and Mt. Emmons and .81 acres of land, this property is a dream location to build your new home.
You
won't believe the lifestyle offered with a lot like this. Not only do
you
have direct access to the forest from your lot,
you
also have fishing rights and easy access to Long Lake and miles of famous single track trails and back country skiing. The HOA offers exclusive and private access to the Snodgrass Trail as well.